This summer... it's WAR!!!
Who's going to win the battle at the box office this summer? Everyone has their guesses, but here are my thoughts on the top five.
5. X-MEN: THE LAST STAND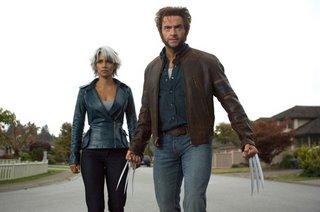 The third part in a really successful trilogy. If the movie is actually good, look for it to do even better. Whether I like Brett Ratner or not, most of his movies make money.
PREDICTION: $190 million
4. CARS
The combination of Nascar and Pixar… both have a huge following. The only thing that keeps this one out of my top three is the fact that the movie doesn't look that good from the trailer. Pixar has not made a bad movie yet and I fear this might be the first. I hope I am wrong.
PREDICTION: $215 million
3. THE DA VINCI CODE
Dan Brown's book is one of the most successful of all time and has been in the top ten for nearly three years. Everyone that has read the book will see the movie and the people that never bothered to read the book but are curious to see what all the noise is about will check out the movie. That is a lot of people and a lot of money. It is also one of the few movies for adults this summer.
PREDICTION: $250 million
2. SUPERMAN RETURNS
We have all forgotten about SUPERMAN 3 and 4. This movie appeals to ages 3 to 80 and is the most popular comic character of all time. Bryan Singer is behind the camera and he has the trust of all the geeks in the world. All of that, and the movie looks really cool. After seeing the new trailer, this might be the movie of the summer.
PREDICTION: $280 million
1. PIRATES OF THE CARIBBEAN: DEAD MAN'S CHEST
The first movie was a surprise hit and grossed $654 million worldwide. The entire cast is back for this as is the director and the writers. The trailers look fun and who doesn't love Johnny Depp? The girls will come to stare at Orlando and the Guys can ogle Keira Knightly. That, along with the fact that there is not that much competition in the month of July will put this just past the man of steel.
PREDICTION: $290 million
Other movies to look out for:
MI: 3
OVER THE HEDGE
POSEIDON
LADY IN THE WATER
TALLADEGA NIGHTS
Who do you think will win the battle of the bucks?